Collection and Bones Divination Mat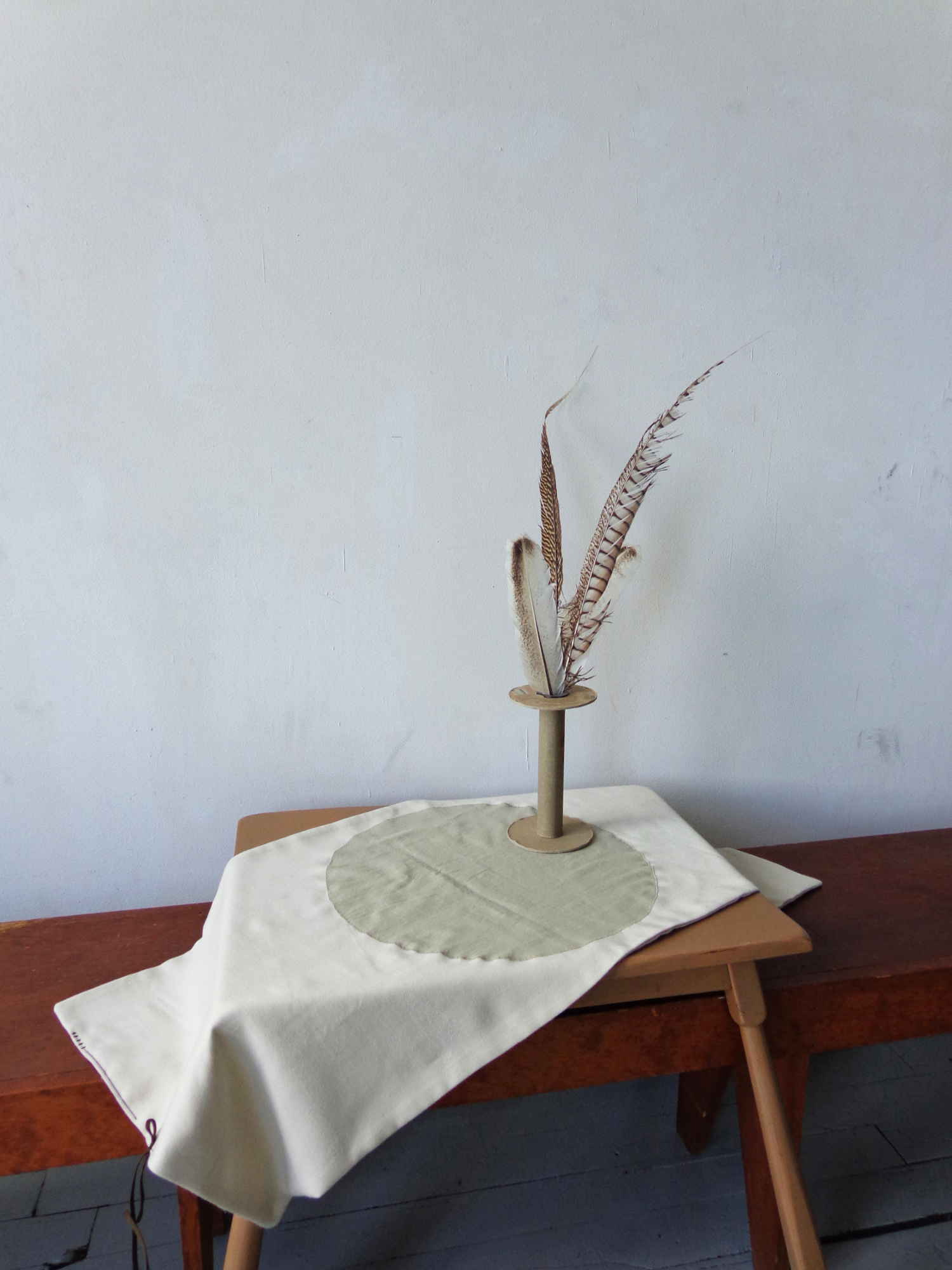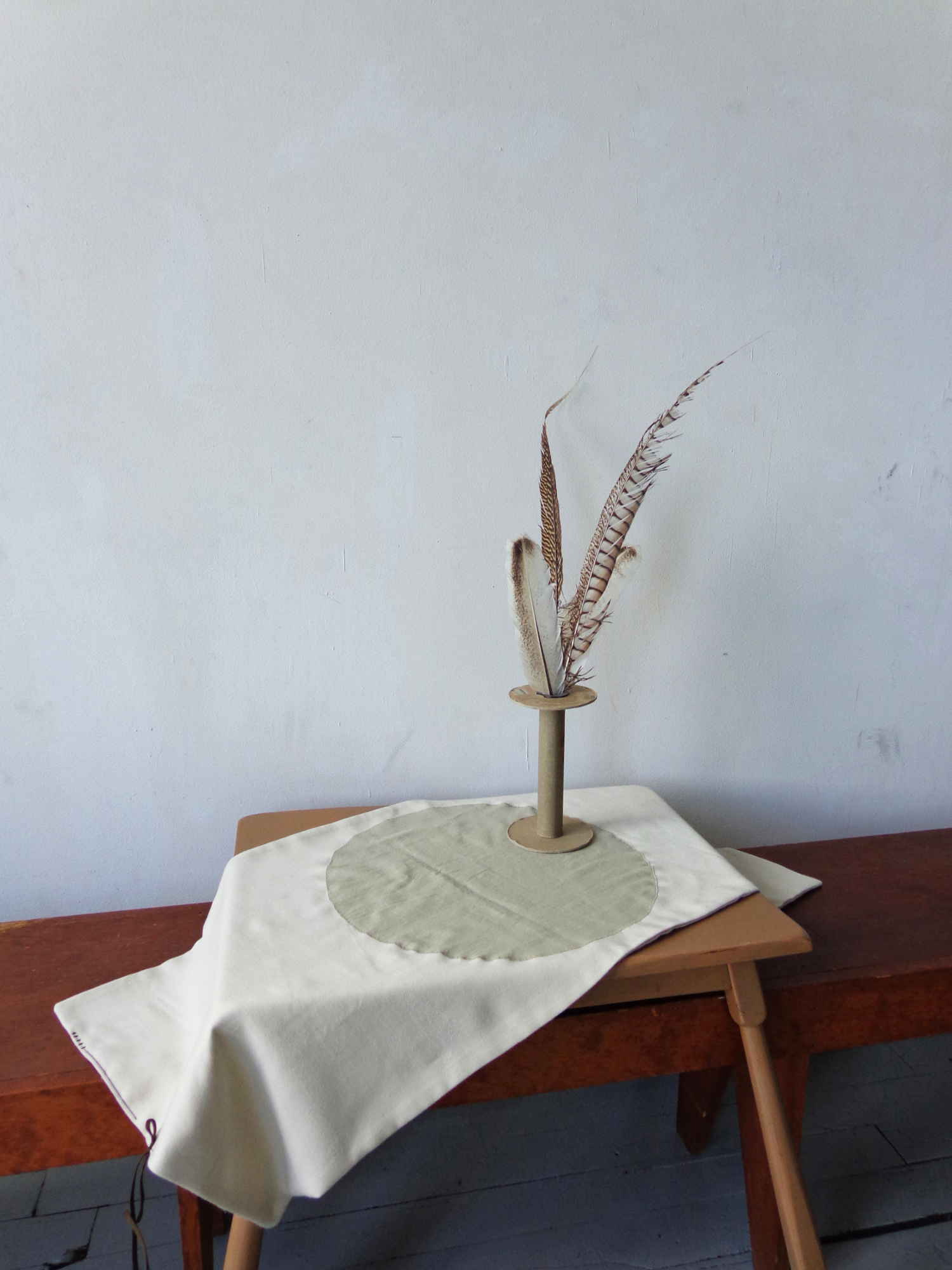 Collection and Bones Divination Mat
The Collection and Bones Divination Mat acts as a soft landing area and sacred barrier on the ground or at floor level for the throwing of collections, curios, and/or bones. Each mat features a sphere sewn onto a doubled material rectangle with nautical stitches, one embroidered tree at the lead corner, plus ties to keep the mat protected when not in use. These materials were hand dyed in botanicals, dried in the sunlight, and then pressed to set the hues.

textiles and compliment dyes based on each cloth:
1. cotton woven rectangle / white tea dye : cotton woven sphere / earl grey tea dye = stone/earl grey
rectangle measurement: 19 inches width x 40 inches length

2. cotton canvas rectangle / red cabbage dye : plain weave cotton sphere / nettles dye = teal/mint
rectangle measurement: 23 inches width x 35 inches length

3. antique taffeta rectangle / logwood dye : cotton corduroy sphere / white tea dye = black/white
rectangle measurement: 24 inches width x 36.5 inches length

sphere: 15.5 inches diameter
rectangle: see sizes with each variation above
ties: 7 inches each (2 ties on each side)

Bone Divination is a very old form of interpretive reading. The remnants of this practice seem to be spread worldwide, in various cultures, and quite personal for each variation. Osteomancy is the name given to this ancient and contemporary practice. The schools of practice can be generally divided into four areas: Slaughter Bone Oracles, Mathematical Systems of Bone Reading, Sortilege Systems of Bone Reading, and Spirit Led Interpretive Systems of Bone Reading.

I am quite novice with this divination tradition, although it seems as if it has been with me over many, many years. The first glimpse that recalls in my mind is spilling out toys and how particular it was to replace them, as if talking with them was an avenue that warmed me like a personal fire. Catherine Yronwode sets the historical stage with a book Throwing the Bones. It has definitely assisted me in the building of this pattern, choices of materials, and construction of each mat.

Each one is peculiar in its own way, the materials are reclaimed from various sources during a lifetime, so far. I have chosen the cotton woven: plain weave, denim, canvas, duck, corduroy, velveteen, and even antique satin. Each mat is doubled material with a five inch, embroidered tree at the leading edge. The edges of each sphere have been retained raw, so as not to discard the fibers and deliver them ready for your personal memories to bleed with them over time. The botanicals and the techniques used to dye the cloths vary in degrees. As my learning curve of working with plant dyes has increased, these beginning stages carry nostalgia and meticulous mistakes.

This collection divination mat will come to you cleansed with herbal smoke, rolled, tied, and with a small bundle of the herbs.